By
Jon Schwarz
,
Alex Emmons
President Trump fired
James Comey, director of the Federal Bureau of Investigation, on Tuesday afternoon.
According to a
letter from Trump
that was
reportedly
hand delivered to Comey's office by Trump's longtime top security aide, the president acted because Attorney General Jeff Sessions and Deputy Attorney General Ron Rosenstein recommended that Comey be dismissed. Comey was in Los Angeles and reportedly
learned of the news
from the television.
In a letter to Trump, Sessions stated that "a fresh start is needed at the leadership of the FBI" and that he concurred with the reasoning of an attached memo by Rosenstein regarding Comey.
The Rosenstein memo stated that he "cannot defend the Director's handling of the conclusion of the investigation of Secretary [Hillary] Clinton's emails."
"The Director was wrong," Rosenstein wrote, "to usurp the Attorney General's authority on July 5, 2016, and announce his conclusion that the case should be closed without prosecution. … Compounding the error, the Director ignored a longstanding principle: we do not hold press conferences to release derogatory information about the subject of a declined criminal investigation."
That is, Trump is claiming that he fired Comey because the FBI director acted unfairly toward Clinton.
The reaction from Democrats toward Trump's decision has been uniformly negative, with many now demanding that the Justice Department appoint a special prosecutor to oversee the ongoing counterintelligence investigation of the 2016 Trump campaign.
Chuck Schumer

✔

@SenSchumer




If we don't get a special prosecutor, every American will rightfully suspect that the decision to fire

#

Comey

was part of a cover-up.
Bernie Sanders

✔

@SenSanders




Donald Trump's decision to fire FBI Director James Comey raises serious questions about what his administration is hiding.
Ron Wyden

✔

@RonWyden




Comey should be immediately called to testify in an open hearing about the status of Russia/Trump investigation at the time he was fired.
Senator Pat Leahy, D-Vt., said that Comey's firing was "nothing less than Nixonian."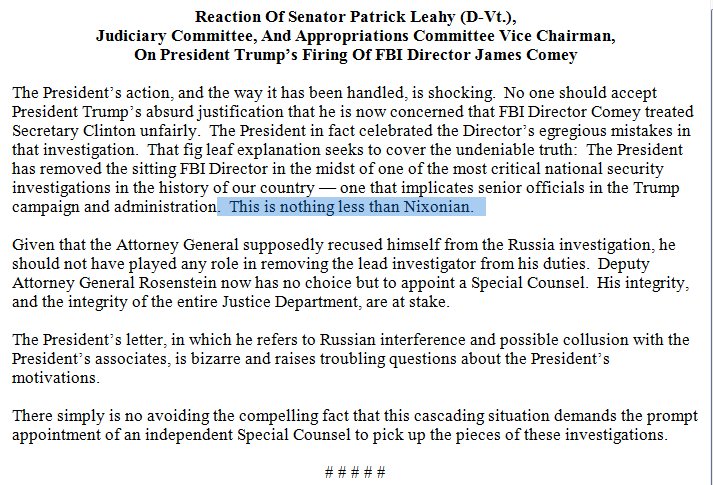 For its part, the Nixon Library tweeted "FUN FACT: President Nixon never fired the Director of the FBI" with the hashtag #notNixonian.